MANILA Philippines -- AS the dictum goes, the captain should be the last to get off the ship, but for the Azkals Captain Alexander "Aly" Borromeo it was a different story; Because months before the important journey for the AFC Challenge Cup, he had to abandon the mission to face quite a different challenge.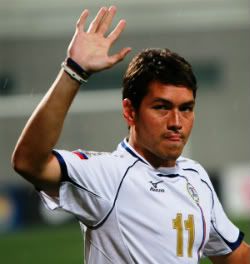 During one of the UFL 2011 games the 29 year old skipper sustained a hard blow to his right leg. Hours after the match, the bad news came in. The Captain had suffered a torn ACL and MCL and would be out of the game for quite sometime.
I don't have the statistic to back up my claim but I believe that during that time, if google and yahoo would come up with a tally, the words Anterior Cruciate Ligament (ACL) and Medial Cruciate Ligament (MCL) would be the most searched words for that day.
Lots of people say that it was just an unfortunate setback to an athlete's career. Others said that it was a career-ending injury. But when I had a quick chat with Aly, it was like overcoming this mishap was nothing but child's play
"I miss being out there with the boys" Aly said when asked how he was doing. He was not in any pain anymore and is currently undergoing rehab at Ateneo everyday. He was far from the Aly Borromeo who went down on the pitch during that unfortunate UFL match,
"I was in a lot of pain back then, I tried holding on to it kaya lang wala na, it really hurt." Even from afar I had a glimpse of how much pain he was experiencing that time. Since he also had a previous injury to his left knee, he already had an idea on the gravity of his injury even before he was brought to the Makati Medical Center.
Famous knee surgeon Dr. Canlas operated on him. "He did the surgery on my left leg that is why I know he is good." But the surgery was just half the battle. He had to face six months of rehab; which means he has to miss the 2012 AFC Challenge Cup.
So why does one have to go through tremendous amount of pain for something so trivial such as a knee injury? Here is why.
According to the medical books Snell's Clinical Anatomy and Scwhartz Principles of Surgery, there are actually four ligaments that hold the knees in place and enable a person to walk, run and move properly.
The Anterior, Medial, Lateral and Posterior cruciates are strategically placed around the knee giving good support and stability. These ligaments are like rubber bands attached in a crisscross manner holding your thigh, knees and legs.
According to Philippine General Hospital (PGH) resident Orthopaedic surgeon Miguel Salazar, when any of this four is torn, it won't make any obvious changes in your gait. You can even go through life with a torn ACL if you're just an ordinary person who deals with day to day normal activities.
He added however that it would be a major problem if you are involve in sports or any activities that would require extreme force on the knees. Your legs would be very unstable for running, jumping or brisk movement if you loose any of these ligaments.
The only way to treat a torn ACL is to reconstruct a new one out of a ligament from another part of the body. Dr. Salazar said that it is no brain surgery, but it can be quite tricky. What makes the healing harder for a ligament is that it doesn't have a lot of blood supply so it can not heal very fast. After the operation you need about two weeks or so to get rid of the pain and the swelling. And after that the hardest part will start---getting back in shape.
And that is when the rehab starts. PGH resident Rehabilitation Medicine physician Don Santiago said that because of the manipulation to the knee, the muscles of the thigh would become very weak. Walking again after the surgery would be quite an effort. It's just like guiding a rickety old man without his cane.
He added that slow return to strenuous activity is required and rehabilitation program is very vital. Some patients can be fast healers and recuperate in 6-9 months but others need about a year to get back in tip top shape.
At this point, it is clear that Aly is almost back to his fighting form. I guess that gives most of the Azkals (and Kaya fans) something to be happy about. Since the day he got injured he never left the sidelines. Whether it was the regular Kaya game on weekends or the big International friendly match of the National team, El Kapitan refuses to leave his ship unmanned.
We all know that his absence would create some problem on our defensive end but still the skipper is hopeful, "It's ok 'cause Juan Luis (Guirado) would be taking my place. It's unfortunate that the games don't fall on a FIFA holiday so a lot of the boys wont be available for the matches. But hopefully we're going to do fine" he said. Aly still believes that the Azkals would have a good chance at silverware this March.
A torn ligament might have halted the streak of this Azkal but clearly it would take more than that to bring him down. IG